There are certain times when you are not satisfied with the quality and the feel of your MP3. The solution to this problem lies in getting an audio editor with a broad range of options to edit MP3.  You will love Power Sound Editor Free from PowerSE Media, the leading software developer. Let's take a look at How to Edit MP3 with it while adding some cool audio effects.
Power Sound Editor Free is the ultimate software to edit your MP3 files to suit your listening needs. Within a few minutes, you will have your MP3 cooler than before. The software is small, and the installation process is a breeze, you will love what it will do for your MP3.
---
You Need Power Sound Editor Free for How to Edit MP3
Editing is just but one aspect of what the software can do for you. When faced with the need to make your audio files sound cooler, Power Sound Editor Free will provide solutions to the following problems.
Convert Audio Files to MP3
There are many file formats available today, and that depends on the source of the audio. This can pose a challenge especially when your audio player cannot play it. The software supports a broad range of audio formats including MP2, WAV, OGG Vorbis, Dialogic VOX, WAV, WMV, just to name a few and you can convert them to the widely supported MP3 by popular media players.
Record Audio
This is one of the few editors with the capability of recording audio files. You can capture your audio from internet streaming sites, DVD/CD/VCD players, MP3 player, Real Player, microphone, and tens of other audio input sources. You can set the recording channel to ensure that the recorded audio is in MP3 format.
Make Precise Edits
Most audio editors fail because you cannot see what you are doing during the edition process. Power Sound Editor Free allows you to see the process of editing in real time. You can see the effects of the editing options as you make them. You can cut out sections of the MP3, copy, join, mix, delete just to name a few of the editing options you will find.
Before you get the hang of the software, navigation could pose a problem. However, you get many online forums. They allow you to interact with other Power Sound Editor Free users and they can help you out if you are stuck. However, one of the most common question most users grapple with is
Q: How do I burn my edited MP3 onto a DVD or CD using Power Sound Editor Free?
A: After you have edited your MP3 with your preferred effects, you can either save it to your computer. However, the best thing to do is burn it to a CD. Insert a writeable disc into your disc drive, and click on the file tab. Here you will find various options among them Burn CD. The burner wizard will scan your computer to the CD-RW drive with the writeable disc. Click on the 'Add file(s)' and the wizard will queue the MP3 for burning on the CD. Power Sound Editor Free allows you to select the burning speed, after which you just have to click on 'Next' and 'Start.' The MP3 is burned on the CD when the wizard shows 100%.
---
Unique Features of Power Sound Editor Free
Aside from editing MP3s and making them sound cool, Power Sound Editor Free has some unique features that can't be found in other free as well as premium audio editing software.
Advanced CD Ripper
Power Sound Editor Free has an inbuilt Advanced CD Ripper, which makes it easy to transcode CDs and DVDs. It does so without losing the quality of the audio. Rivals of the software provide a ripper as an entirely different software.
Visually Edit Your Audio Files
Power Sound Editor Free allows you to edit your audio files with visual precision. Unlike others where you apply audio effects blindly, you can see which places on the waveform to edit. Others ask you to define the section of the audio you wish to edit by inputting the times.
Burn MP3 to CD
Power Sound Editor Free is an all in one audio editor, and you can accomplish all the tasks you have at hand easily. The unique thing about the software is that it comes with an inbuilt CD burner. After you are through with editing your audio, you can directly burn the MP3 to a CD or DVD easily.
---
How to Edit MP3 to Make It Sound Cooler with Audio Effects
How to Edit MP3 to make it cooler? Power Sound Editor Free comes with a large collection of audio editing effects, and they will make your audio sound stylish. There are over 25 audio effects, and it only takes a few clicks to add them to your MP3.
Step 1: Downloading and Installing the Software
The first mission of How to Edit MP3 is to install our free MP3 editor. The process of downloading and installing Power Sound Editor Free takes a few minutes. After the installation is complete, the software will create a desktop shortcut to allow for easy access.
Step 2: Loading the MP3
If you already get the MP3 on your computer, go to the 'Home' tab on the interface and select 'New File.' You can also load a CD to extract the MP3, or 'Import from Video' or 'Get from YouTube.' The MP3 will load and will display as a waveform.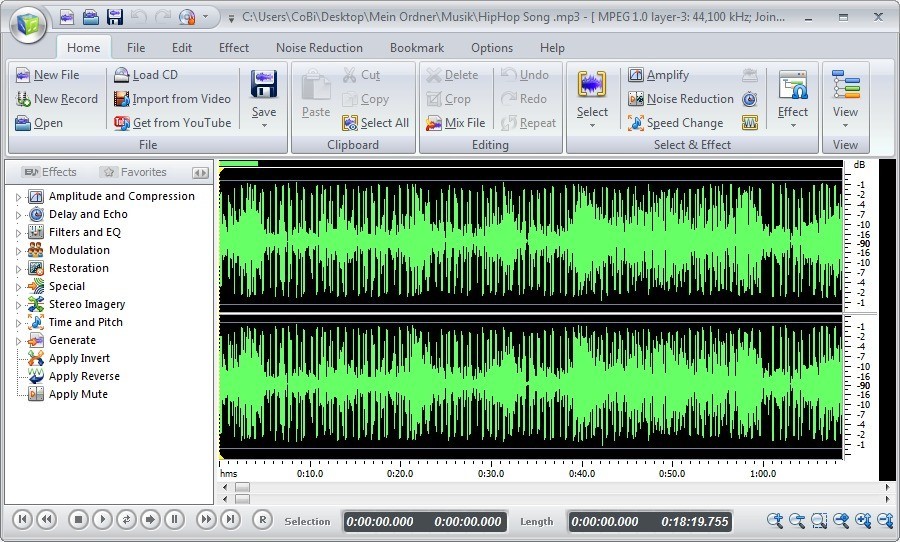 Step 3: Editing and Adding Effects
Most original MP3s have silent starting and ends before the audio starts playing. Select the parts you do not want in the MP3 then click on the 'Edit' tab and choose between the selections of edit options. Click on the 'Effects' tab and you will find over 25 audio effects and apply them as you wish.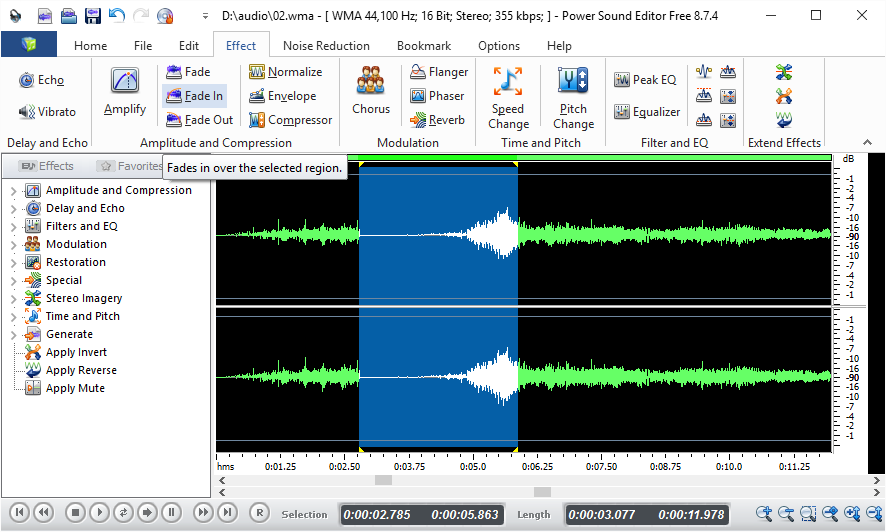 Step 4: Save the New MP3
When you are satisfied the result, click on the 'Home' tab then click on the 'Save – Save As' icon. Here you will get options on where to save the edited MP3. You can choose the default C:\Program Files\Power Sound Editor Free or define your preferred location. Now you've solve the How to Edit MP3 question.
---
Drawbacks of Using Alternative Software
There are other audio editors in the market, but they are not at the level of Power Sound Editor Free. They come with drawbacks such as
Fewer editing options
Complicated user interface
During the download, some come with adware
Lengthy editing process
---
Pros of Using Power Sound Editor Free
Choosing Power Sound Editor Free comes with its share of undisputed advantages such as
Over 25 audio effects and editing options
Uses few of your computer's processing resources
It is fast
A straightforward user interface
---
Tips
Record Audio
Power Sound Editor Free allows you to record audio from a wide range of input devices such as sound cards, microphones, streaming websites, as well as disc and MP3 player. On the Home tab, select 'New Record' and follow the prompts.
How to Edit MP3 to Make it Sound Cooler
Power Sound Editor Free has tens of audio effects as well as editing options. You can find them on the Edit and Effects tabs on the interface. You can see the effects of the options in real time and undo them when it does not sound right.
---
Definition of Practical Terms
CD Burner – This is a software used to write information and data on a writeable disc. You cannot directly add information on a disc the same way you would transfer files from one folder to another on your computer.
Transcoding – It is the process of converting non-DVD compliant video and audio files to compliant files for burning on a disc.
Sound Card – A device slotted into a computer that allows you to use audio components especially for multimedia applications.
Disclaimer: PowerSE Media has strict guidelines against the use of Power Sound Editor Free for commercial purposes. Be sure to read the copyright laws to avoid prosecution.
---
Conclusion
Arguably, Power Sound Editor Free is the best audio editor that gives you many options to edit MP3. Be on the lookout for updates for your current version, but ensure that you get the latest version if you are a first time user.