Power Sound Editor Free is a handy little tool with small size for audio editing, recording, audio CD burning and ripping.
Do you want to add some narration to the audio? With Power Sound Editor Free, this could be easily achieved as its built-in text-to-speech tool. Please read on to see
How to Add Text to Speech
with this free audio editing software.

---
How to Add Text to Speech
Step 1. Download and Install Power Sound Editor Free
How to Add Text to Speech? The first step is to download and install Power Sound Editor Free from our website. There's a desktop shortcut through which you can launch the program.
Download Power Sound Editor Free
Step 2. Add Audio File
Click "Open" to find the audio file supported to open in the explorer window activated. After that, the audio waveform will be displayed in the editor. To select an insertion point, you should click on the waveform.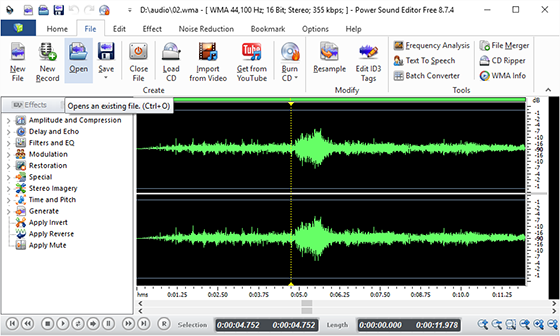 Step 3. Convert Text into Voice
Click "File – Text To Speech" to and the "Synthesis Speech" tool is activated, in which you can enter the text you wish spoken and specify the voice as needed (Voice engine could be added through adding different voice packages)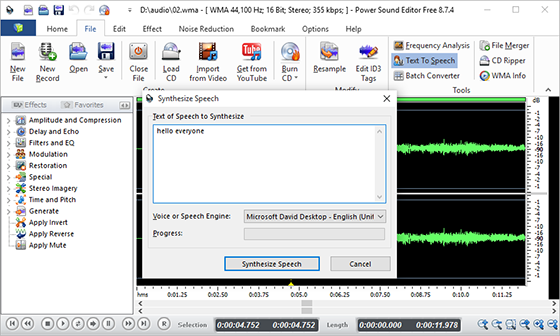 Step 4. Save Changes
Click "Synthesis Speech" and the text you entered will be converted to sound and added to the selected point of the audio file. Click "Save – Save File As" and an output window will pop up. You can specify the output folder, output format and output name. Click "Save" and the format settings window is activated. You can use the presets provided or specify the detailed parameters as needed. When all settings is done, click "OK" and wait for a few seconds. The edited file will be output to the output location. Now you've understood how to add text to speech.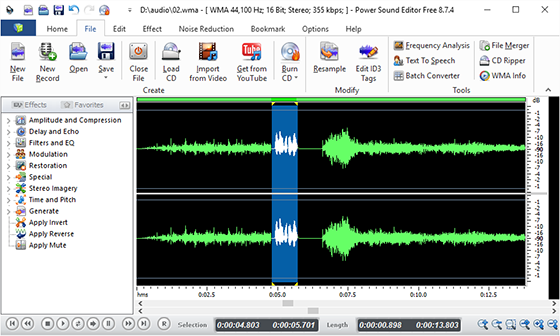 ---
How to Add Text to Speech with Online Service
How to Add Text to Speech online? YAKiToMe is an online text to speech service which can convert text in the formats like .txt, .doc, .pdf, .html, .xml, and even email to speech. You are allowed to specify the reader and the reading speed as well as the way to upload your file: Field (copy and paste text), File, RSS and Email. It makes it quite convenient that you can share your audio books or other files with other users. Plus, sometimes you can be so lucky to find an audio version of a book you've been looking for lately.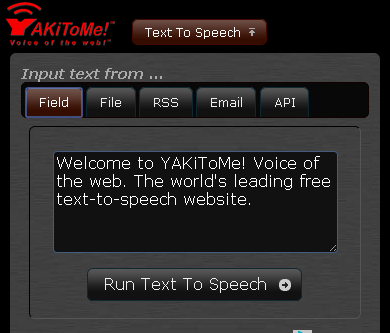 ---
Conclusion
Power Sound Editor Free is a sturdy yet versatile audio editor and it's completely free. Although it has a simple design, this powerful audio editing software has a bundle of basic and advanced functions for every user. It allows you to perform various operations with the audio file including visual editing, audio recording, applying various effects and format conversion and more. Even a beginner can usually get a hang of how it works within a few minutes.