Power Sound Editor Free is a handy little tool with small size for audio editing, recording, audio CD burning and ripping.
Do you want to add some narration to the audio? With Power Sound Editor Free, this could be easily achieved as its built-in text-to-speech tool. Please read on to see
How to Add Text to Speech
with this free audio editing software.

---
How to Add Text to Speech
Step 1. Download and Install Power Sound Editor Free
How to Add Text to Speech? The first step is to download and install Power Sound Editor Free from our website. There's a desktop shortcut through which you can launch the program.
Download Power Sound Editor Free
Step 2. Add Audio File
Click "Open" to find the audio file supported to open in the explorer window activated. After that, the audio waveform will be displayed in the editor. To select an insertion point, you should click on the waveform.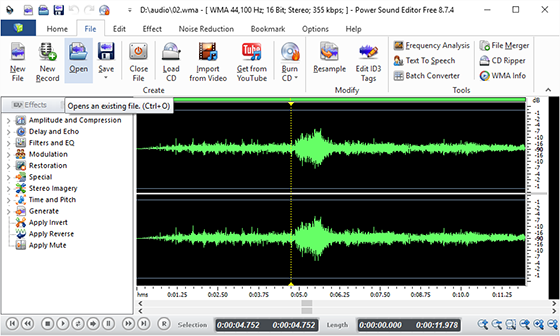 Step 3. Convert Text into Voice
Click "File – Text To Speech" to and the "Synthesis Speech" tool is activated, in which you can enter the text you wish spoken and specify the voice as needed (Voice engine could be added through adding different voice packages)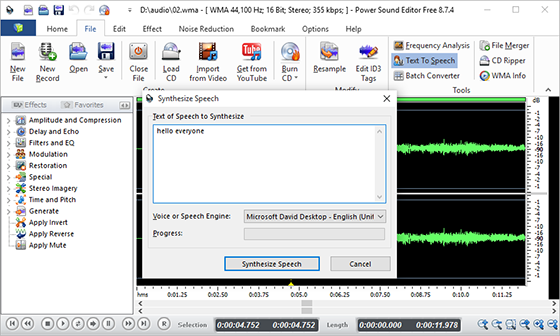 Step 4. Save Changes
Click "Synthesis Speech" and the text you entered will be converted to sound and added to the selected point of the audio file. Click "Save – Save File As" and an output window will pop up. You can specify the output folder, output format and output name. Click "Save" and the format settings window is activated. You can use the presets provided or specify the detailed parameters as needed. When all settings is done, click "OK" and wait for a few seconds. The edited file will be output to the output location. Now you've understood how to add text to speech.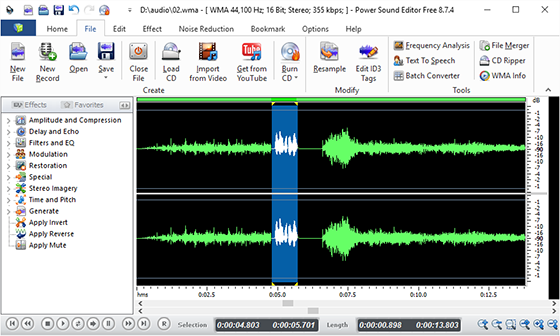 ---
How to Add Text to Speech with Online Service
How to Add Text to Speech online? YAKiToMe is an online text to speech service which can convert text in the formats like .txt, .doc, .pdf, .html, .xml, and even email to speech. You are allowed to specify the reader and the reading speed as well as the way to upload your file: Field (copy and paste text), File, RSS and Email. It makes it quite convenient that you can share your audio books or other files with other users. Plus, sometimes you can be so lucky to find an audio version of a book you've been looking for lately.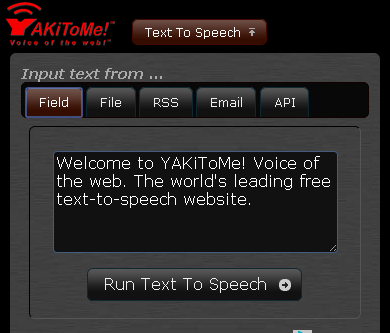 ---
How Text to Speech Works in Windows 10
Click on the "Start" and go to "Settings – Ease of Access – Narrator". Now you can see the "Narrator" pane.
Enbale the "Narrator" and you can see a Narrator settings window via which you can choose the voice, adjust the speed & pitch, enable the intonation pauses, etc.
 To get more details of how to use text to speech in Windows 10, check this page.
---
How to Activate Text to Speech on iOS (iPhone & iPad)
 Go to the "Settings – General – Accessibility".
Tap on "Speak Selection" on the right and toggle it on (for iOS 8 and later it's "Speak Screen").
You can skip this step but if you want to your text read in different accents or languages, tap the "Voices" option to choose what you like. (Using different voices will require downloading of varying voice packages, which will take up much space of your devices.)
Now you can adjust the speaking speed (how fast the words are read) via the "Speaking Rate" slider bar below. You can also choose if you want to turn the "Highlight Content" on, which enables your device to highlight the words as they're read.
Press & hold on the text (websites, documents, messages, etc.) until the option appears. Tap on the "Speak" button to hear the text spoken.
---
How to Use Text to Speech on Android
Open "Settings – Accessibility".
Tap "Text-to-speech output".
Choose a TTS engine (You can see the defaulted "Google Text-to-speech Engine" or choose any available engine provided by the manufacturer of your device).
Tap the gear icon on the right of the chosen TTS engine and then "Install voice data" to choose the language of the voice package. After that, hit the down-arrow icon to download the package.
When the downloading is finished, tap the voice package again to choose a voice from the available ones (most languages provide optional male & female voices).
---
Conclusion
Power Sound Editor Free is a sturdy yet versatile audio editor and it's completely free. Although it has a simple design, this powerful audio editing software has a bundle of basic and advanced functions for every user. It allows you to perform various operations with the audio file including visual editing, audio recording, applying various effects and format conversion and more. Even a beginner can usually get a hang of how it works within a few minutes.
---
10 Best TTS Software (Best Text to Speech Software)
1. eSpeak
eSpeak is an open source windows software; it has a neat and compact interface where you can input or copy text. The interface of this application makes it easy to use, it displays some basic options like the play, pause, skips and reset.
You can control the speech speed and adjust the volumes; the texts are convertible to WAV files so that they can be played. The program features several voices that can recognize punctuations in complex text structures while reading TXT and XML documents out loud.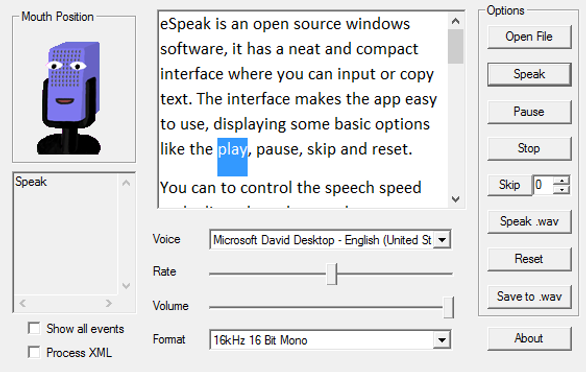 Pros
Lightweight, occupying only 1MB
Easy to use
Open sourced program
Supports multiple languages and voice choices
Cons
Limited to only TXT and XML formats
Do I Recommend It? Yes!
Yes, I recommend! Even though the eSpeak has a lightweight, taking up only 1 MB of the space on your hard disk, it has several voice choices and also supports multiple languages like Swedish, Cantonese, Latvian, Norwegian, and Estonian
Link: http://espeak.sourceforge.net/
---
2. Balabolka
Bolabolka is a TTS software that can read clipboard contents using several editions of speech APIs. The program allows you to configure some basic voice options like altering the timing pace, and intonation of the speech.
When it comes to formats, bolabolka can read from a lot of large formats like DJVU, EPUB, PDF, DOC, HTML, RTF, and others. You can also save your audio files in WAV, AAC, MP3 and a lot more formats. It supports lots of languages including Greek, Romanian, Spanish, and Finnish, you can also save text in LRC formats.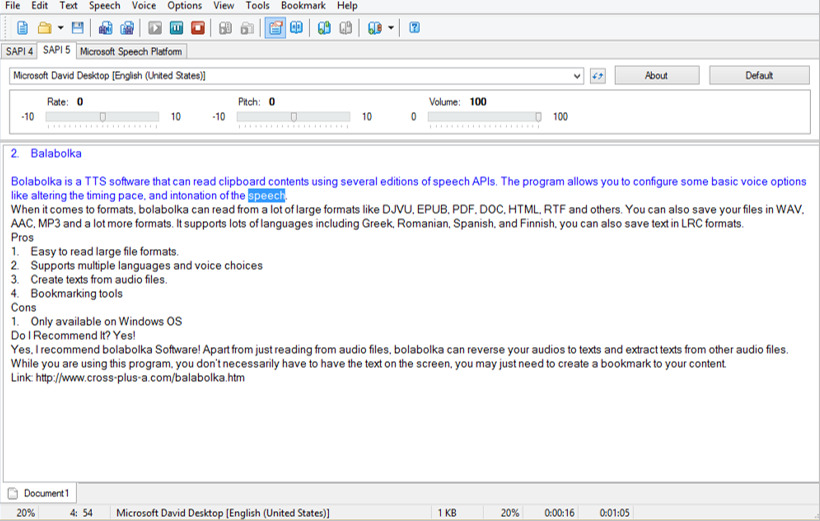 Pros
Easy to read large file formats.
Supports multiple languages and voice choices
Create texts from audio files.
Bookmarking tools
Cons
Only available on Windows OS
Do I Recommend It? Yes!
Yes, I recommend bolabolka Software! Apart from just reading from audio files, bolabolka can reverse your audios to texts and extract texts from other audio files. While you are using this program, you don't necessarily have to have your data on the screen; you may just need to create a bookmark to your content.
Link: http://www.cross-plus-a.com/balabolka.htm
---
3. Swift-talker
Swift-talker is a basic text-to-speech software that helps you communicate text-based information into clean and natural sounding speech. This software can also save your texts as audio, allowing you to listen to your previously text-based file on the go.
Available on Windows, Mac OS, and Linux, this software comes in the form of a text editor. The software can be used to read all the words contained in a document, or you can choose to highlight a few blocks of texts to be read aloud by the software.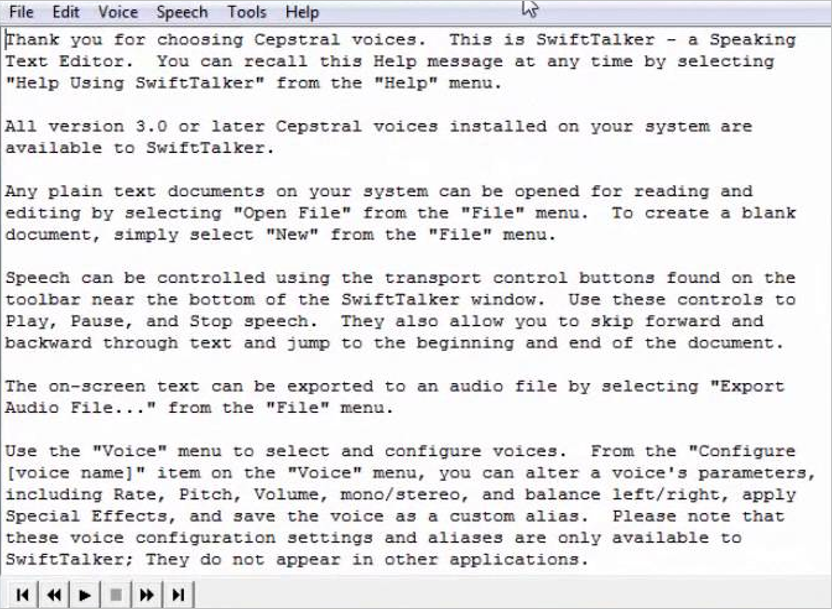 Pros
Available on Windows, Mac OS, and Linux
Wide range of voices in paid voice pack
Easy to use
Cons
Do I recommend it? Yes
Despite its over-simplicity, I recommend the Swift-talker, it has some nice features including the ability to save text as an audio file, customizable output settings, and its language support—which includes languages such as French, Italian, and German.
Link: http://cepstral-swifttalker.software.informer.com/download/
---
4. Zabaware TTS Reader
Zabaware TTS Reader acts as a personal assistant by placing its icon on your icon tray. By doing this, the software can easily help you read out your dialogue box or instant messages.
The software also comes in the form of a program where you can easily open your documents and have your texts read aloud. You can choose a selection of paragraphs to be read out, or you can have every text in the record read out to you.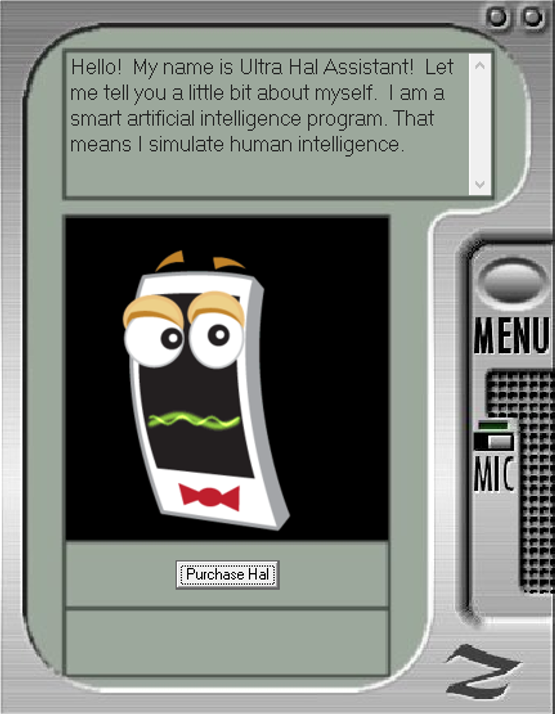 Pros
It's free to use
Wide range of voices to choose from
Cons
Only available on Windows
Supports very limited formats
Do I recommend it? Yes
This software can help you do so much more than merely reading a document copied in the program. Zabaware TTS reader can integrate itself easily in your computer to help you read emails, web pages and so much more. You can also save your texts as a WAV audio format to listen to your documents on the go.
Link: https://www.zabaware.com/download
---
5. yRead
yRead is a simple text-to-speech program that can be used to read out loud any plain text and HTML file inserted on it. With a simple interface, this software is straightforward; you only copy a document into the main window of the program, press a button, and the software starts reading your texts aloud.
Other qualities of the software include the ability to read aloud texts at different speeds and the software's language support (provided you download other languages from the developer's website).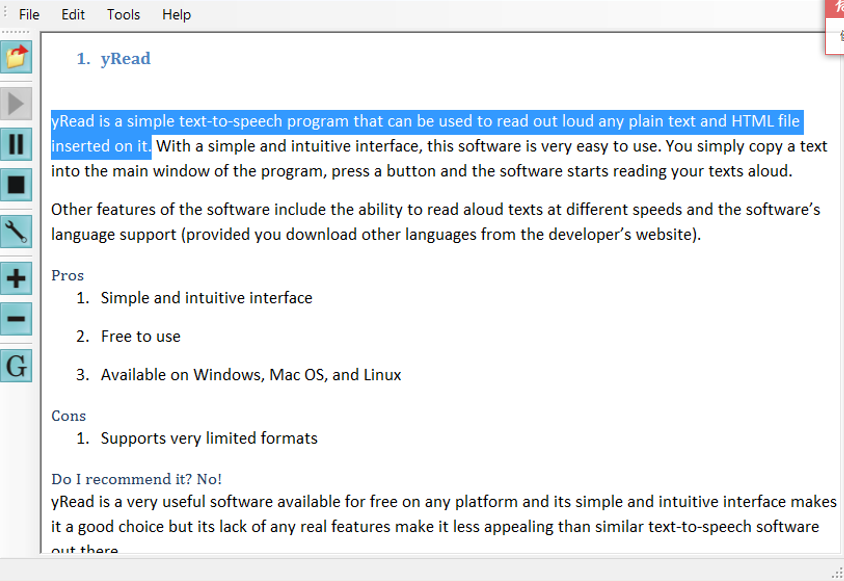 Pros
Simple and intuitive interface
Free to use
Available on Windows, Mac OS, and Linux
Cons
Supports very limited formats
Do I recommend it? No!
The yRead software is available for free on any platform, and its simple and intuitive interface makes it a good choice, but its lack of any real features make it less appealing than similar text-to-speech software out there.
Link: http://www.spacejock.com/yRead3_Download.html
---
6. Read Clip
Read Clip is more than just a text-to-speech software, it can also be used as a text editor. You can spell check your documents before letting the software read it out loud. You can also save your texts as MP3 or WAV audio format files.
While you are using this software, the settings of the voices can also be altered. You can choose to change the speed of the texts and even adjust the voices and pitch.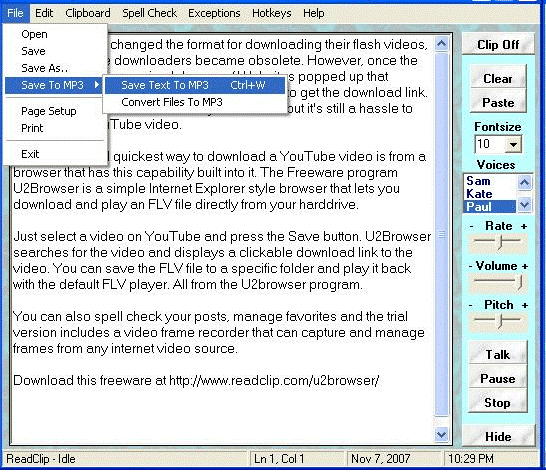 Pros
Rich text editor
Easy to use
Cons
Only available on Windows OS
Do I recommend it? Yes
This software works beyond simply reading texts aloud; it also serves as a spell checker, a text editor, and an mp3 generator. Read clip is also very easy to use, integrating itself easily on your PC and giving you the option to control the speed at which your texts are read.
Link: http://www.readclip.com/download/download.htm
---
7. Panopreter
Penopreter is a TTS software available on Windows OS. This software supports a wide range of text formats such as TXT, RTF, DOC, and PDF, and also a wide range of different voices that can be used in reading your texts out loud.
This software also includes a toolbar that can be integrated into your web browser. The toolbars can enable you to listen to the text of your web pages out loud or save the web pages as MP3 or WAV format files for you to listen to later.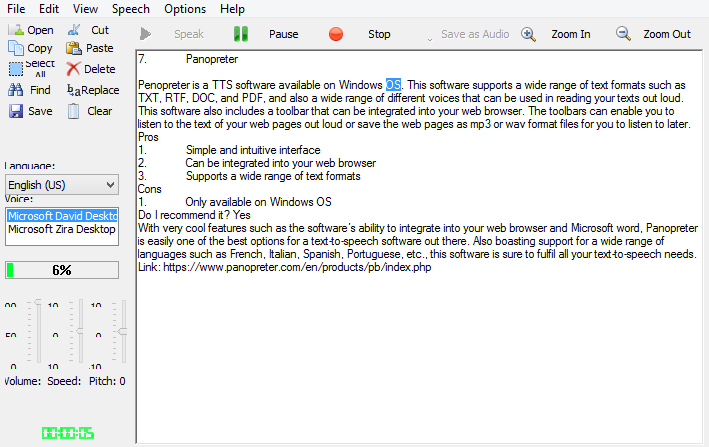 Pros
Simple and intuitive interface
Can be integrated into your web browser
Supports a wide range of text formats
Cons
Only available on Windows OS
Do I recommend it? Yes
With very cool features such as the software's ability to integrate into your web browser and Microsoft word, Panopreter is easily one of the best options for a text-to-speech software out there. Also boasting support for a wide range of languages such as French, Italian, Spanish, Portuguese, etc., this software is sure to fulfill all your text-to-speech needs.
Link: https://www.panopreter.com/en/products/pb/index.php
---
8. Verbose
Verbose is a TTS software that works on all kinds of windows, it supports formats like PDF, TXT, HTML, and RTF, so you have full access to your text files, but what you may dislike is that it is limited to saving the speech in MP3 or WAV formats alone.
Verbose allows you to control the speed and pitch of your speech while reading from text files, outlook or websites. You also need to know that when you use an unregistered version, you get an annoying constant prompt that reminds you to purchase the full version.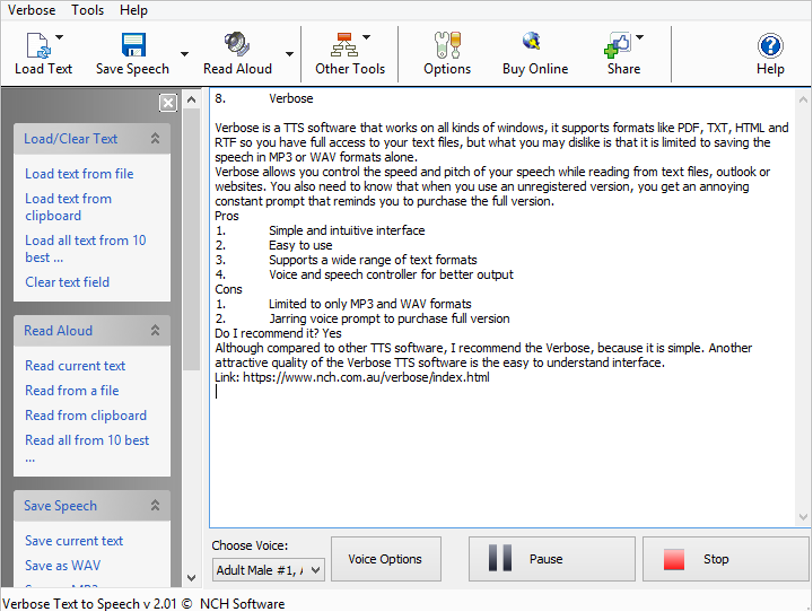 Pros
Simple and intuitive interface
Easy to use
Supports a wide range of text formats
Voice and speech controller for better output
Cons
Limited to only MP3 and WAV formats
Jarring voice prompt to purchase the full version
Do I recommend it? Yes
Although compared to other TTS software, I recommend the Verbose, because it is simple. Another attractive quality of the Verbose TTS software is the easy to understand interface.
Link: https://www.nch.com.au/verbose/index.html
---
9. Audiobookmaker
Audiobookmaker is one of the best TTS software you can find on the internet; the software can read our text in various voices and languages with adjustable speech parameters like speed, pitch, and volume.  It has a multilingual interface with languages like English, Russian and Chinese.
Audiobookmaker has easy to add pluggable pronunciation dictionaries, which helps to customize the pronunciation of single words, abbreviations, and word combinations and to make words substitutions.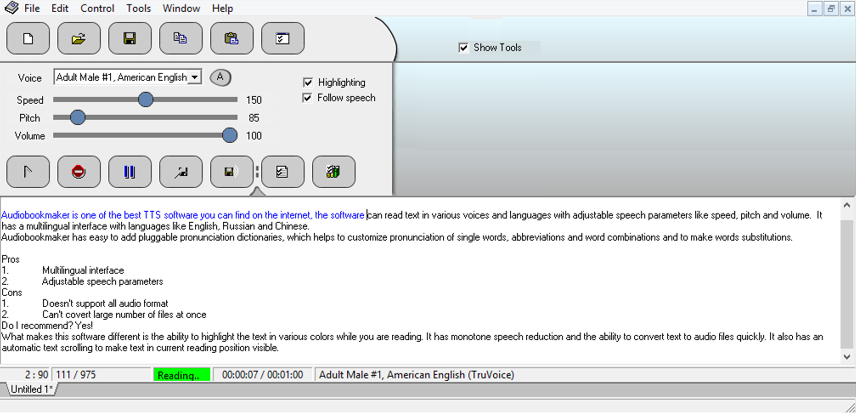 Pros
Multilingual interface
Adjustable speech parameters
Cons
Doesn't support all audio format
Can't convert large number of files at once
Do I recommend? Yes!
What makes this software different is the ability to highlight the text you are reading in various colors. It has monotone speech reduction and the ability to convert text to audio files quickly. It also has an automatic text scrolling to make the position of words you are currently reading visible.
Link: http://audiobookmaker.com/
---
10.TextAloud
TextAloud has a unique feature to read text files out loud and change voices easily. The program has a text editor which can be found in the user interface and it is used for editing and selecting text. TextAloud TTS software is also built with a batch converter which can quickly turn an arbitrary set of files into audio.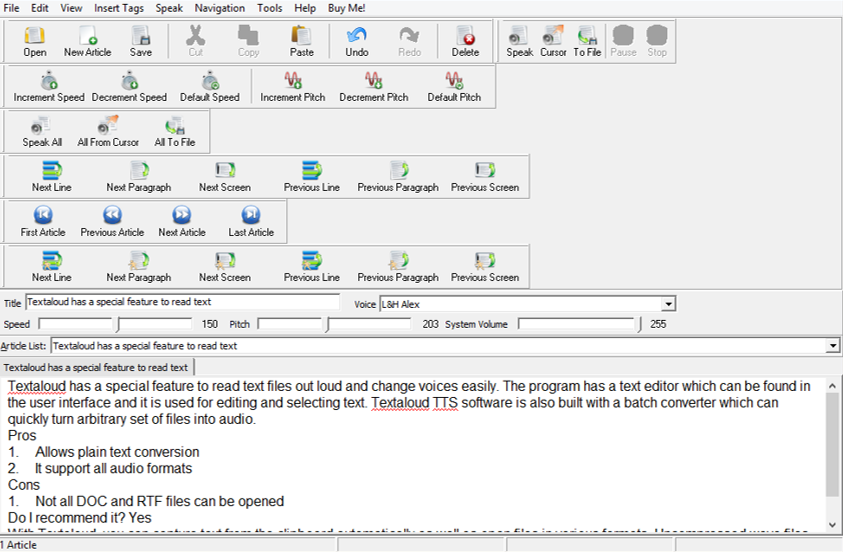 Pros
Allows plain text conversion
Supports all audio formats
Cons
Not all DOC and RTF files can be opened
Do I recommend it? Yes
With TextAloud, you can capture text from the clipboard automatically as well as open files in various formats. Uncompressed wave files with different sampling rates and channel option as well as MP3 and WMA files are supported.
Link: https://www.s3.amazonaws.com
---
Best Text to Speech Apps for Android
For many of us, reading tiny text on the small screen of your cellphone or tablets can be an awful experience. The super bright screens can also be harsh for your eyes. In addition, for the short- and far-sighted people as well as other visually impaired people, reading the words and characters of the webpages, Word & PDF documents, ebooks and others is far from pleasant. That's why we are going to introduce several great text to speech apps for Android here to guard you against suffering from reading tiny text.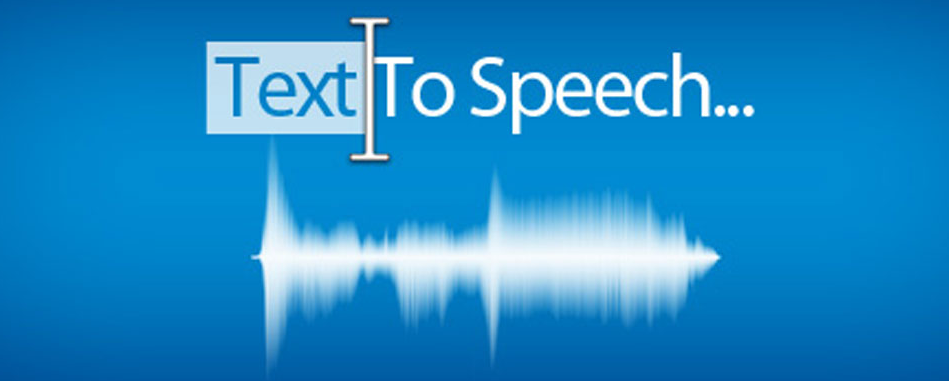 Most of the Android TTS apps are using built-in Google Text-to-Speech engine; meanwhile, most Android devices are integrated with Google Text to Speech (if your device does not include it, you can download it here), which means you don't have to download a third-party voice engine, unlike the case on desktop PCs laptops – nothing tricky to worry about. If you want to know what it sounds like, here is a cloud version.
Text to Speech (TTS) from TK Solution
This is a small and easy app to effectively convert text to speech on Android. After you install and open the app, you just need to enter/paste the text and tap the play button, an then you will hear the text spoken. You are allowed to load/save text from the apps and what's even more convenient is, you can dictate the text by tapping the Mic button.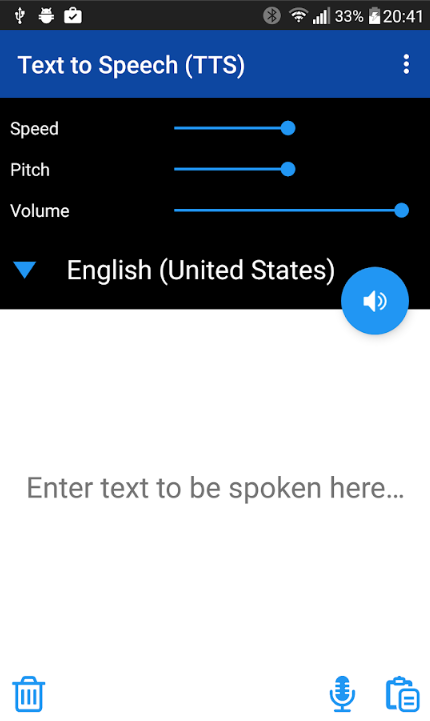 What's more, you are allowed to change the speed & pitch of the voice. The downside is that it does not provide any other choices of the voice and what you get is the default voice only. It provides an option to let you save the TTS audio as a WAV file, which can be played and used offline or shared easily.
---
Talk FREE from Abast Multimèdia
This is a practical TTS app which employs your internet connection. It is able to convert text to speech in many languages. Remember that Talk Free uses the Android built-in TTS engine. If you have disabled it or uninstalled it for some reason, enable or install it at first.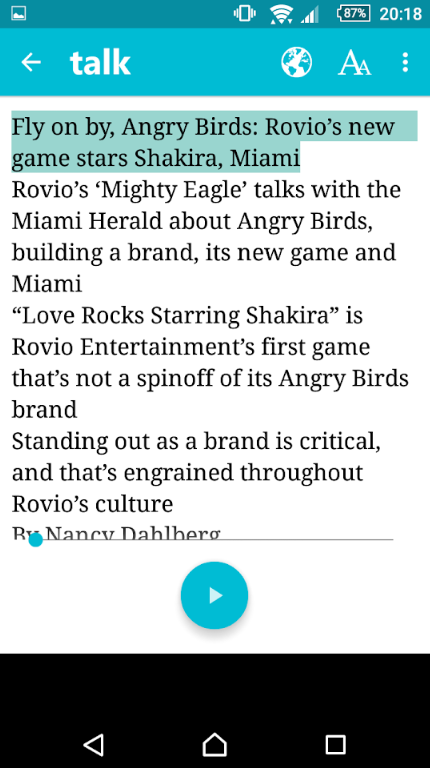 You need to tweak the pitch & voice settings of the built-in engine to meet your requirements. It allows you to directly import textual content or webpages from the app. Similar to TK Solution, it can also save the TTS audio as a WAV.
---
Narrator's Voice from Escolha Tecnologia
Unlike many other TTS speech app, Narrator's voice, as claimed in its name, uses regular voice to convert text to speech and it enables you to choose between many voice packages, including Cortana, Steven, Zira, etc.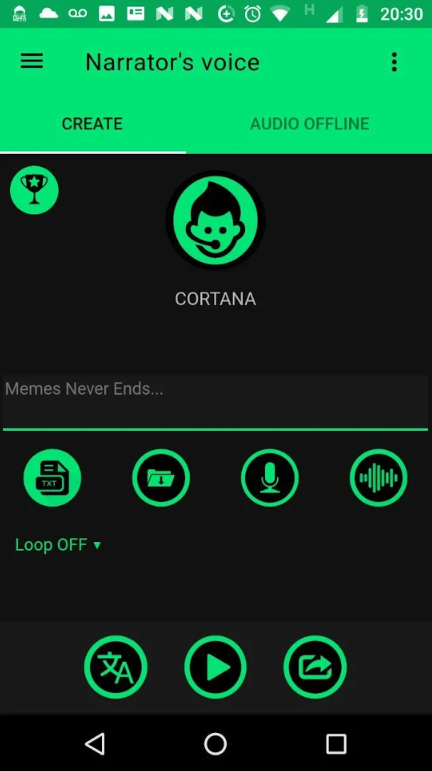 What's surprising is that you are allowed to manipulate the voice, adding some effects (echo, chorus, etc.). It does not require Internet connection to add the voice effects; meanwhile, there are also a few certain effects (Goku, Charmander, Articuno, etc.) that do require the connection.
---
iSpeech Translator from iSpeech.org
This one used to be a text to speech app until it explored its way forward – iSpeech Translator then becomes a voice translation app, which can translate your voice or text and speak aloud the translate results. It supports the translation of 18 languages (7 for speaking texts) and more are under development. Like the typical TTS apps, you are allowed to type the words in the app to translate to the language you choose in the menu on the right. You can copy the text from the web browser, emails, chatting apps, etc. and paste it to the iSpeech Translator. You can also use the mic to input the words or sentences. When you get the corresponding translation in the text box, you can hear it read aloud by tapping on the speaker icon.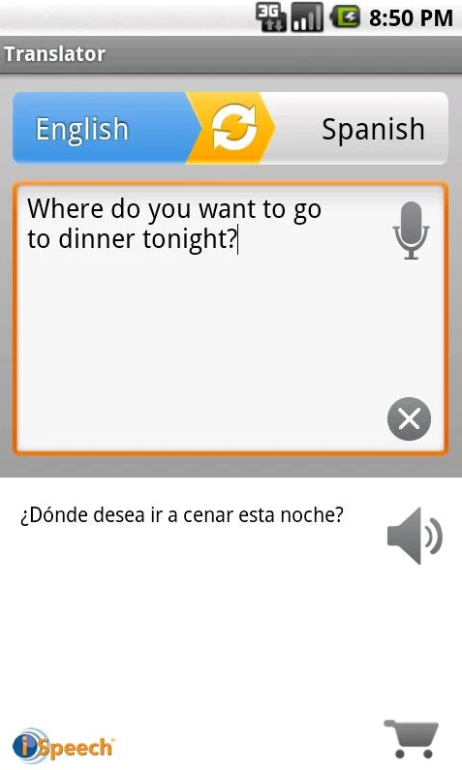 This is a great help when you are traveling abroad. It supports multitasking so that you won't miss any call or messages. Compare to other TTS apps, it's translation feature brings more convenience.
---
T2S: Text to Voice – Read Aloud from HE SOFT
T2S enables you to convert text to speech in a more efficient way instead of typing or pasting the text. It allows you to directly open a text file or create a new one to convert the text within. It employs Google Text-to-Speech Engine as the primary voice but you are allowed to choose other voices in settings. The pitch and speech rate can be customized to suit you need while the phrase segmentation mode can be set.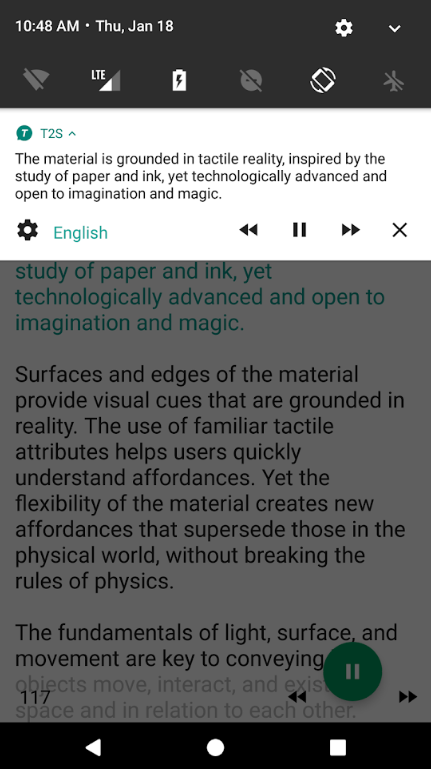 Like many other TTS apps, T2S allows you to copy the texts from other apps and paste them to convert to speech. You can also manually type the words you want to convert, which is a great help in communication. You can save the converted speech to an audio file. What surprises me is that it includes a browser mode, which can translate the webpage text in a browser – just enter the URL and tap play and it will read the text out loud.
---
Pocket from getpocket.com
Pocket is an awesome read-later app that can capture the content you care about. It is able to bookmark and save the newest news, stories, articles, blog posts as well as videos from other apps or devices. Actually, if you have already been using Pocket, then you don't need another TTS app to convert the text to speech. It is integrated with TTS ability – simply share the webpages or text from other apps to Pocket to use its built-in voice engine to read them out loud.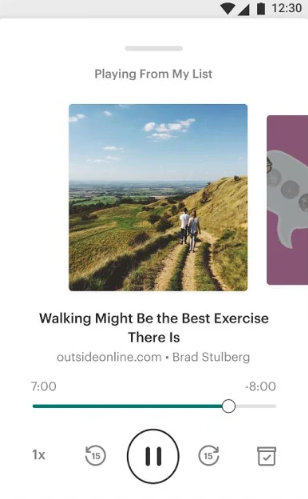 Pocket is a multipurpose app that can help you release your eyes and hands while listening to textual contents that interest you most. It does not need an Internet connection to read them out. It is compatible with iOS and Android devices as well as desktop computers. You can also directly save contents to Pocket with Chrome/Firefox/Safari browser extensions.
However, when it comes to TTS, it still has some drawbacks. It does not provide multiple voice packages to choose; you can't change the pitch or speed of the voice; you can't save the speech as an audio file. So, it can be a very handy alternative to TTS apps but if you are a serious TTS user that don't need other functionalities, I suggest that you use other TTS apps.
---
@Voice Aloud Reader (TTS Reader) from Hyperionics Technology
@Voice Aloud Reader works like other TTS apps mentioned above: you are allowed to share webpages as well as many other text formats including PDF, TXT, Word (DOC/DOCX), OpenOffice, RTF as well as ebook formats like EPUB, MOBI, etc. Generally speaking, it supports more text formats than most of other TTS apps. You can change the reading speed, which is a very useful feature especially when you are trying to read a long article before bedtime.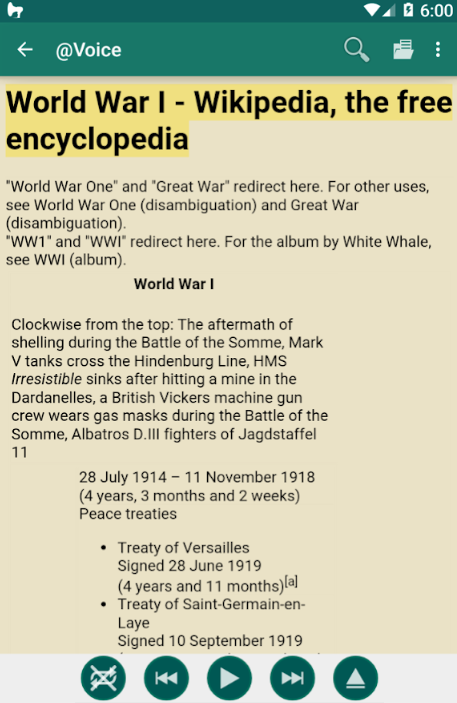 The app is a great audiobook reader and the settings are very thoughtful, including a night mode to protect your eyes and a sleep timer in case you fall asleep before turning your device off.
---
Voice Access from Google LLC
This app is developed by Google and it's not a TTS app, but it provides TTS feature. Its initial target users are visually impaired people. It makes it easy for them to control their phones only by voice. When you install Voice Access, it adds a number next to each element on the screen so that you can ask the phone to do what you want by speaking "tap [number]".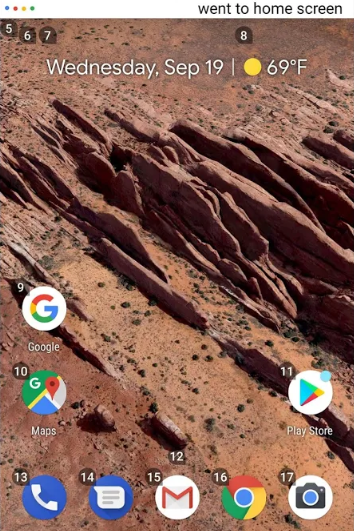 It can't compete with other TTS apps when it comes to the speech, but if you need a voice assistant with TTS function to control your phone, it is the one.
---
Best Text to Speech Apps for iPhone
Speech technology used to be very fussy about the words and hard to use 10 years ago. When people were trying to convert some words to speech, they always got the grating robot voice instead of natural human voice, unless they found an excellent voice package. A great voice package could be very popular back then, but the choices were few. Meanwhile, the voice engines could totally ruin the sentence by speaking the words in a weirdly wrong way.
Things are different now. More awesome voice packages are available and the TTS software is far more intelligent. People are able to easily convert text to speech on their smartphones thanks to the improvements these years. If you are an iPhone user and want to convert text to speech conversion from time to time, here are the top picks of TTS apps.
---
NaturalReader Text to Speech HD
NaturalReader Text to Speech HD is a TTS app that supports 30 voices in 5 different languages. You can import files in DOC/DOCX, PDF, EPUB, MOBI and webpage formats to read the text. You can manually input the text; it can even load the documents aforesaid from your Dropbox account.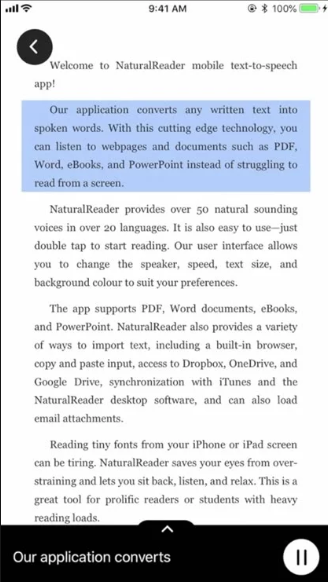 It only gives you 100 minutes of free "no-interruption" speech. After that, it will automatically insert interruptions to the speech and you can't easily remove them unless you pay $9.99 to upgrade to the Premium version. It does not provide visual reading features.
---
Aloud! – Text to speech
Aloud! – Text to speech is a very straightforward TTS app with a bunch of new features. It can convert plain text, PDFs, ePubs and HTML files to speech. You are able to choose from multiple target languages. You can change the reading speed.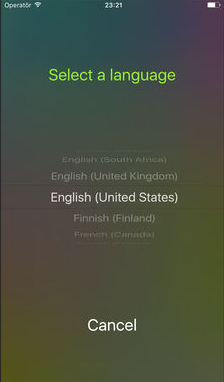 Aloud! allows you to save a limited amount of articles within the app. To remove the limitation, you need to purchase an upgrade.
---
Voice Generator
Voice Generator is able to convert the text you input to speech. It enables you to set the voice pitch, speed and variance. Its interface is nice and neat. Voice Generator provides 4 free voices (2 males & 2 female). If you are not satisfied by these voices, you can pay $0.99 apiece for other voices.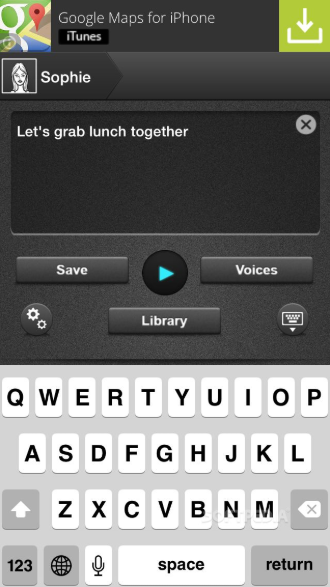 Compare to other TTS apps, Voice Generator creates a more "computer-generated" voice – it is acceptable but if you need your words to sound exactly like human speaking voice, maybe you should go to other apps. Meanwhile, the popup ad is another drawback. Instead of inputting a full page of text, I suggest you input a single sentence, which brings a much better result. You can't replace other TTS apps with Voice Generator or rely on it to do some serious TTS jobs, but at least it is a decent free alternative.
---
ClaroPDF
ClaroPDF is a PDF viewer and reader app that can help you read PDF on your devices. It can convert your PDF book into an audiobook and read it out loud. Whenever you find some PDF books, articles or other text PDFs that interest you, you can upload them to ClaroPDF so that you can read them with your eyes or listen to them with your ears.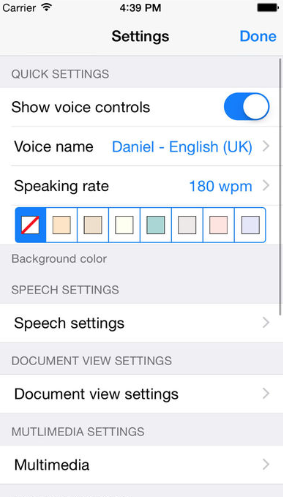 ClaroPDF includes the option to adjust the reading speed. Compared to other TTS apps, it is more suitable for PDF book and long article reading. However, it provides fewer voices to choose and you can't change the pitch. It does not support as many document formats as others and you can't save the speech as audio files to use elsewhere.
---
Speech Central
Speech Central is an iOS TTS app that enables you to interact with webpages and pick articles to read out. Users can import plain text, DOC files, ebooks as well as PDFs to the app or just type some text. Speech Central can sync the web articles list between devices using Pocket and add new articles.
Speech Central is a multifunctional app and provides more features than many other TTS apps. Any app that can share a web link can share the URLs to Speech Central to turn the webpage into speech. You can convert the text file into an audio file to save it or share it with your friends for free. It gives you a free online library so that your reading history can be stored to build your own database, where you can find the articles easily later.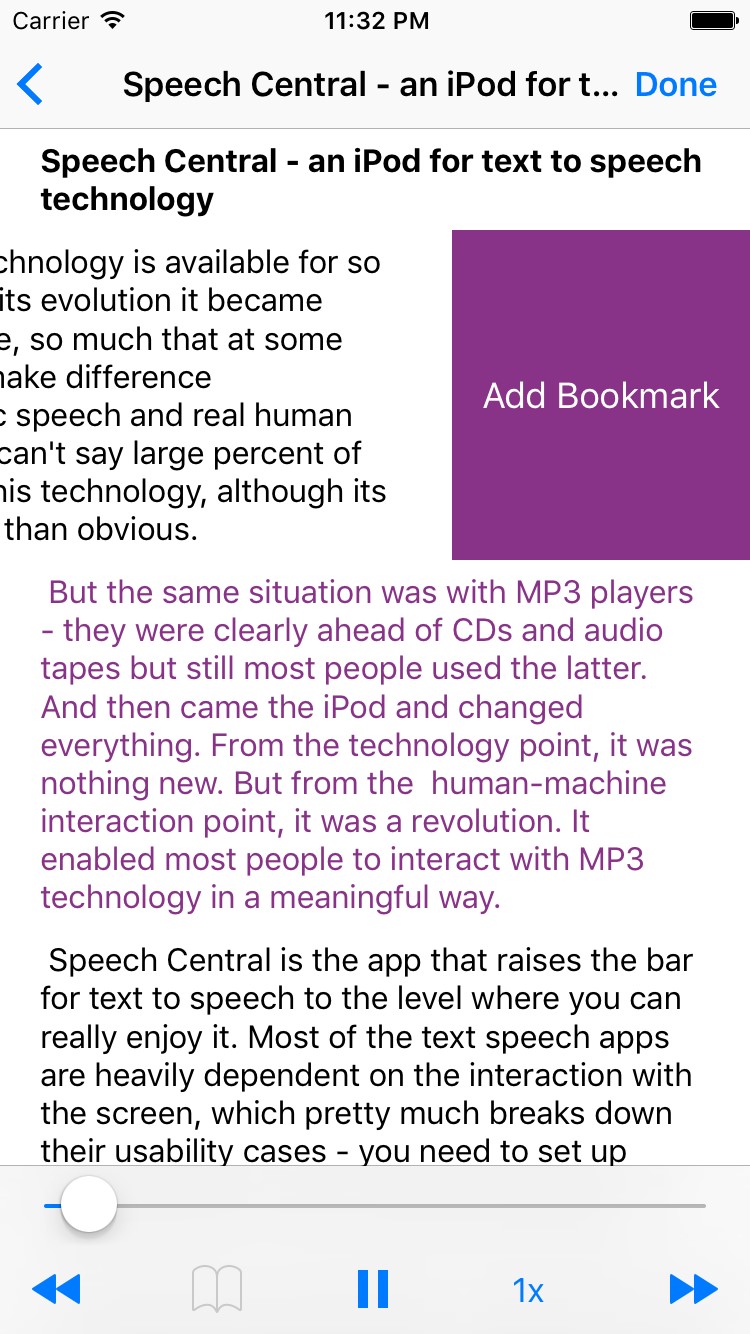 Its free version is limited to the number of articles that you can add to it each day. You can buy a Pro add-on to remove the limitation.
---
Voice
Voice, with a very simple name, it comes with a feature that many other TTS apps don't have – OCR feature. It can convert the text on image to speech, which is very handy for tourists. Of course, it can also convert other text files into voice like most other TTS apps. It can also read the notification on your iPhone.
Voice comes with many available voices in different styles and allows you to change the speech volume, speed and pitch. It can save the speech to an audio file. You can even set the resulting voice as your notification sound, ringtone & alarm.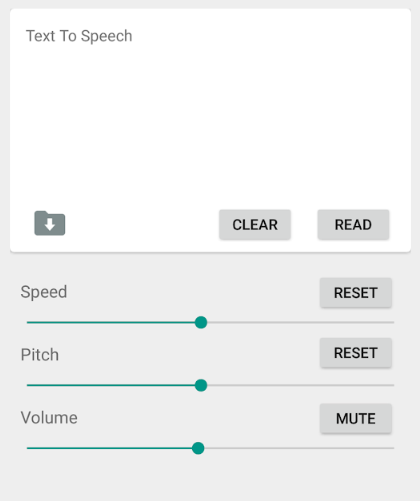 Voice is a special TTS app due to its OCR ability (visual reading). You can just take a photo of the text you want to listen to and upload it to Voice. You don't even need to type in or paste the text as you do in other TTS apps. The interface is very neat without any ads or other interruptions. The downside is that it does not provide voices in other languages except English.
---
Talk For Me
Talk For Me is an amazing TTS app to help people that are not able to speak. It can convert text files to different kinds of audio files. It can help with the preparation of your presentation and communication. It allows you to input your thoughts in plain text or on social media and then turn them into voice. It can read text from TXT, DOCX, PDF, PPTX and more file formats. You can copy and paste the text to the app or read the text from any other apps.
Talk For Me support over 280 voices, more than any other TTS apps in our list. Meanwhile, it supports 54 languages. It allows you to customize the fonts and save the text you input as well as save the speech as an audio file.
Talk For Me is especially practical for people who are mute or who have suffered from impaired voice caused by injuries. It even allows people to communicate with the images they take with their iPhone/iPad/iPod. If you are not speech impaired, you can go to other choices; but if you lost your voice somehow, don't hesitate to download Talk For Me, which is a second-to-none TTS app & a must-have.
---
Voice Dream Reader
Voice Dream Reader is a TTS app which also gives you many choices on voices and languages. You get 186 voices and 30 languages. Not more than Talk For Me but still, better than most of the others. You can input any text or document files in DOC, TXT, XLS, PPT, HTML, ePub, etc. It can load your files from the account of Google Drive, iCloud, Dropbox, OneDrive, Pocket, Evernote, Instapaper, etc.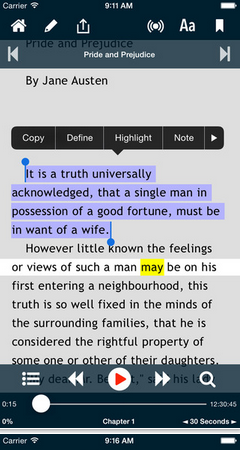 One of the app's most amazing features is synchronized highlighting, as the texts are read out loud, you can see the words smoothly synchronized with the speech, which can improve the comprehension and knowledge retention and is a very efficient way to learn knowledge and languages.
It supports auto-scrolling and full-screen. The UI is very clean, without any interruption. You can pause, rewind, change the speed, etc. There are also options to adjust the font, size, spacing & color for better reading experience. You are allowed to highlight any texts and take notes for later review. It also gives sleep timer, which is handy for audiobook reading before bedtime.
---
Predictable
Predictable is a TTS app designed to help speech impaired people and it is now available in 10 languages. It provides fewer supported voices and languages than Talk for Me or Voice Dream Reader but it's also got its strong points. When you start typing in the app, it will start predicting what you are going to say and read out the complete sentence for you. It includes the head tracking feature which enables you to easily control the app by moving your head. It intelligently can tell the difference between British and English spelling.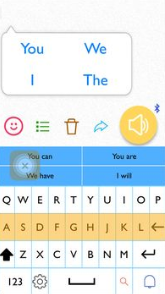 What's more fascinating is, in its coming new version, it will provide a new feature called Acapela's my-own-voice, which allows you to record and use your own voice in Predictable – isn't that awesome? Predictable learns how you speak so that it will predict what you want to say faster and more accurately. You can also keep your favorite phrases within easy reach. There are many customizable settings to make it speak like you.
---
iTranslate Translator
iTranslate Translator is an excellent translator and dictionary app with TTS feature. You can convert texts from document files, webpages and other apps into voices in over 100 languages. It includes an offline mode which enables you to translate abroad without using roaming data.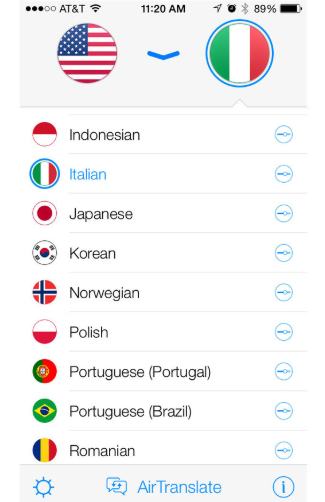 It provides different male/female voices and you can even switch between different dialects. It also comes with OCR feature so that you can use your camera to instantly translate the text you see (e.g., menus, signs, etc.)
It's a very powerful translator app but it may lack some common features of regular TTS apps like pitch and speed alteration.