Sound editing is kind of routine work for many of us, especially people related to multimedia industry. No matter if you are working with audio files on a daily basis, several times a month or just a few rare times in a year, a nice free sound editor can save much time and effort while granting you more control over your work and more creativity to reveal your talent. This post will be focusing on helping you choosing the best sound editor software.
Many sound editor programs are not easy to use – pros may benefit from them but for a vast number of new users, complication is a bummer that kills any passion and idea. Meanwhile, the price tag does not help when you are trying to do some high-quality editing work while on a budget. How can we solve this problem without paying a dime? An excellent piece of reliable sound editor freeware can be your way out.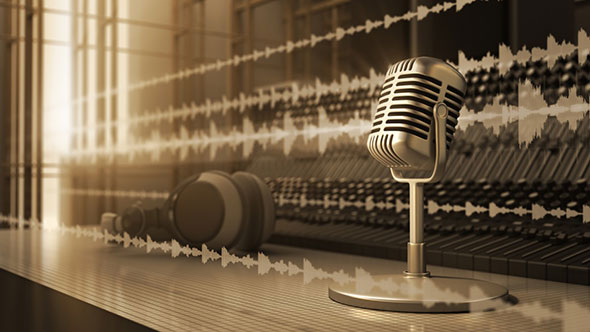 ---
Best Sound Editor Software 2018
Power Sound Editor Free, as free sound editor software, provides many editing features as others while working even more efficiently and professionally than some payware out there. Before jumping to conclusion, let's check its features to find out how it meets the standards of "the best sound editor software".
Download Power Sound Editor Free
Free to Use
It's not all about money but hey, we gotta admit that price is almost the first factor to consider, especially when you need to decide if you want to get the same thing by paying a few bucks or $0. Power Sound Editor Free is such a tool to provides high-quality editing features and resulting audio files for free.
Security
Yes, there are many free tools out there but none of them are safe enough for your system to use. They secretly install stuff on your computer: malware, spyware, adware, bloatware, trojan, virus, etc. You'll never know what's on the way. Some else may be better but they require your personal info for registration: mail address, email, cellphone number, credit card … Why risk your info while you can't assure they won't leak them to third-party groups? Power Sound Editor Free asks nothing in return.
Sound Recording
Sound recording is one of the most important features of a multifunctional audio editor application because you won't find all the audio you want anytime, anywhere – sometimes you just need to record it while you can hear it. Power Sound Editor Free is able to record audio from whatever sound resources – stereo mix, microphone, line-in, LP, online streaming, etc. It can record the sound you hear and then automatically load the recording in the audio editor for further editing.
Sound Editing
As for its inborn duty, Power Sound Editor Free does the audio editing like most other sound editors do, nothing less: Cut, Copy, Paste, Delete, Silent, Mix, Undo/Redo, etc. You can perform all the operation visually on a waveform with Bookmark and Region Marker tools. Meanwhile, there is a sub-millisecond selection tool to upgrade your ability to manipulate audio to a professional level. Power Sound Editor Free can edit an existing audio file or load an audio track from an audio CD directly.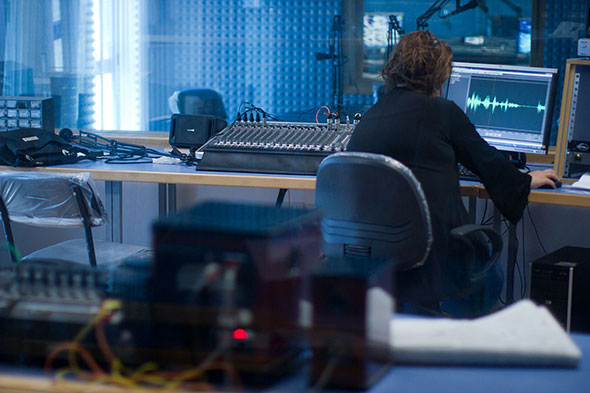 Audio Effects and Filters
It's almost impossible to make amazing stunning & ear-catching music without audio effects and filters. Power Sound Editor Free provides a series of audio effects and filters to tweak your audio.
Effects provided: Fade in/out, Echo, Delay, Vibrato, Phase, Flange, Equalize, Amplify, Normalize, Envelope, Compressor, Chorus, Reverse, Reverb, Invert, Stretch, Pitch Shift, Mix Stereo, etc.
Filters provided: Equalizer, Peaking Equalizers, Notch Filter, High Pass, Band Pass, Low Pass, High Shelf, Low Shelf, etc.
Presets
Not all of us know all the techy stuff like a pro – that's why some presets are needed when editing your audio. It describes a set of complicated parameters with easy and understandable words so that we know what to expect when we choose a certain option. It provides preset for all the sound effects and you can pre-listen to the processed before you actually apply them to the sound file. It also provides presets for quality adjustment when you output the audio.
Meanwhile, the fast access of the presets can also help pros to do some quick work. The manual parameter settings is still provided and recommended for experts with very specific needs.
Noise Reduction
If you have recorded some music from the old vinyls and cassette tapes, the noise is unavoidable. However, Power Sound Editor Free can minimize the harm those noises do to your recording. It can reduce the pops, hiss, cracks, breath, etc. to make your audio usable.
(Please notice that what we do is trying our best to reduce them, but 100% removal of noises is not possible for any audio editor software no matter how they brag about their noise removal ability.)
Tag Editing
For music fans who have countless musical files, tag info is necessary. It can help set items like filename, released year, album, artist, genre, cover art, etc. and it can be useful to link a lyric file and find duplicate music files. Power Sound Editor Free enables you to embed data stated above via an MP3 tag editor (for MP3 format) or a WMA info editor (for WMA format).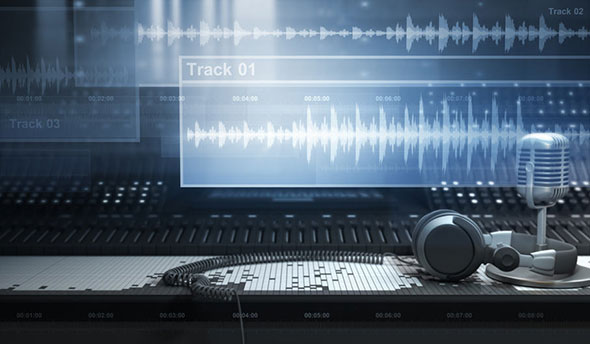 Audio CD Burning and Ripping
People use CD less frequently now but still, it is a method to backup, play and share your music. Power Sound Editor Free has an Audio CD burner that can burn your recording or edited audio into standard Audio CD that can be played in a CD player.
Meanwhile, you can directly load a track from an Audio CD into the editor and save it as an audio file to your harddrive. Before ripping the track, you can click a button to link to a free CD database to get all the tracks automatically renamed according to the published album.
Text to Speech
A text to speech tool is built-in to convert your text into human voice. You can paste your words to make them spoken and save the voice as an audio file; also, you can directly convert the text to speech and insert it into any position of the loaded audio.
(Note: you need to have at least a voice package install on your system)
Audio Extraction and YouTube Download/Conversion
Power Sound Editor Free provides tools to extract audio from video as well as download YouTube videos and convert them to wanted video/audio formats.
---
How to Edit Sound and Add Sound Effects with the Best Sound Editor Software
Step 1. Load a Sound File
Launch Power Sound Editor Free, the Best Sound Editor Software and drag the sound file you want to edit into the program. Or you can click "Open" to navigate to the source folder to add the file. The added file will be displayed as a waveform.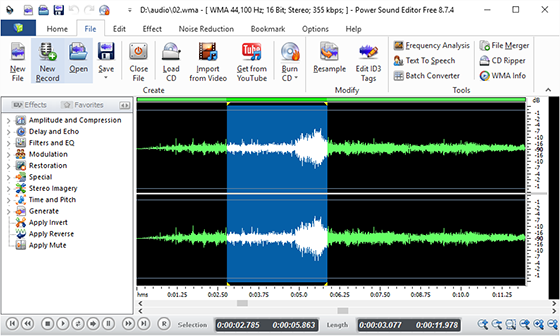 Step 2. Edit the Sound File and Add Audio Effects
Drag the cursor on the waveform to select the part you want to perform the editing operations you want. You can also use the selection tool at the bottom to specify the start & end time of the selection.
Under the "Edit" tab, you can edit the part you select; under the "Effects" tab, add audio effects to it. If you don't select any part of the waveform, the audio effects will be applied to the whole audio file. Use the bookmark and region maker tools if you need to memorize and jump between multiple points/regions.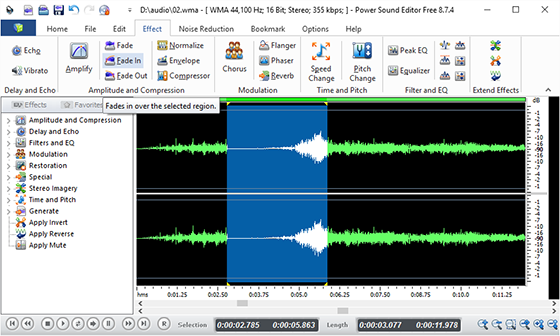 Step 3. Save the Sound File
Before you save the sound file, you must ensure it is the exactly the result you want. Click the play button at the bottom to play it back. If it is not what you expect, you can always undo the operations to make things right. Click "Save" to save the edited file. If you don't want to overwrite the source file, choose "Save as" to generate a new sound file. Now you've successfully edited your audio file with the Best Sound Editor Software.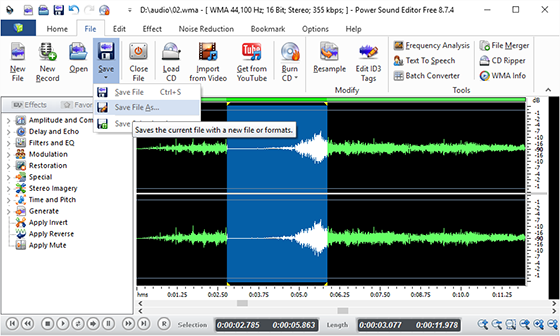 ---
More to Expect with Power Sound Editor Free
Power Sound Editor Free is one of the Best Sound Editor Software around and it works for free. It could be a steady assistant for your routine or a temp solution to save the day.
Download Power Sound Editor Free
Capture and perfect any sound you hear and save it to a playable audio file;
Digitize your analog audio

and

reduce noises

as much as possible;

Add awesome audio effects to your music;
Create fantastic cellphone ringtone;
Edit a track from an Audio CD and rip it to your harddrive;
Get sound extracted from video;
Download YouTube video and video from other video sites and convert them to MP3;
Burn a birthday/party mix CD for a happy get-together;
Edit you interview recording, lecture or podcast content;
And more.